SANTA CLARITA ADDS THREE NEW PLAYERS FOR 2012
2011 Western Conference winners strengthen roster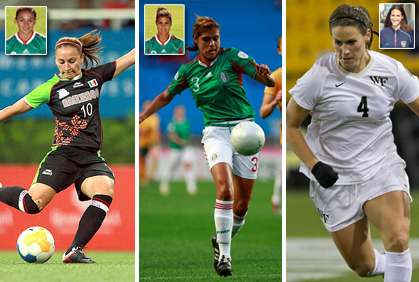 Santa Clarita, Calif. (February 3, 2012) – The Santa Clarita Blue Heat FC has announced the signing of three new players for the 2012 W-League season, including two members of the current 2012 Mexican National Team.
Dinora Garza, 23, and Marlene Sandoval, 27, competed for Mexico in the 2012 CONCACAF Olympic qualifying tournament last month.
A starting midfielder for her national team, Dinora played in the 2011 World Cup in Germany, the 2011 Pan American Games (Bronze Medal) and the 2008 U-20 World Cup in Chile. For the last year, Garza has also been a member of the Tigres de la UNAL club; her hometown is near the Texas border in Reynosa, Tamaulipas Mexico.
Born in Southern California, Marlene Sandoval is a solid defender for Mexico. Her playing experience with the National team includes the 2004 Olympics in Athens, the 2003 U-19 World Cup and the Pan American Games in the same year. Marlene graduated from California State University, Fullerton and was awarded the 2005 Big West Conference Defensive Player of the Year.
Wake Forest sophomore standout Rachel Nuzzolese, will also join the Blue Heat in 2012. A starting forward from Upper Brookville, New York, Rachel ranked in the top-five goal and point scoring for the Atlantic Coast Conference and was named to the conference All-Tournament Team. She has seen extensive time with the United States Youth National Teams, playing with the U-15, U-17 and U-18 squads.
Santa Clarita franchise owner Carlos Marroquin is thrilled with the addition of all three players to the Blue Heat. "The depth of talent that each of these athletes will bring to the team will be important to the Blue Heat's ongoing development and with that, we are hopeful for another positive season."